English Language Club
"Learning English With Fun"
Introduction:
The English Language Club was formed in Spring 2005 with an aim of helping students improve their skills in English through various activities. The first advisor of the club was John Mark King. The club was revived in 2008 by Sibli Ahmed Khan. Mr. Md. Ziaul Karim took over as an Advisor. During his advisory period a number of 66 students enrolled in the club. Then Mr. Md. Jamal Hossain took over as an advisor in 2009. The current members of the club is 143.
Objective:
English language club has a number of objectives. They are as follows:
i. Creating facilities for its members to improve their communication skills in English
ii. Nurturing a sense of leadership, team spirit, cooperation and voluntary services among the
members which will help them better perform in their career in future
iii. Cultivating a sense of social and ethical responsibilities and
iv. Building a better image of the university through positive activities
v. Providing assistance for internship and part-time job placement for the members
How to Join the Club:
Students of Presidency University can join the club anytime around the year. They need to collect an application form from any of the club members. The completed application forms with a passport size photograph and taka one hundred as registration fee should be submitted to the club advisor. The advisor will assign them membership numbers.
Advisor:
Md. Jamal Hossain, faculty, Department of English
Key Persons:
Md. Ariful Haque, Presidenct
Tashriba Tawshik, Vice-President
Md. Nazmul Hasan, General Secretary
S.M. Rabiul Islam, Joint Secretary
Abdur Rahman, Orginizing Secretary
Humaun Rashid, Publication Secretary
Md. Abu Tohid Hasib, Cultural Secretary
Mohammad Ashraful Islam, Executive Member
Md. Alamgir Hossain, Executive Member
S.M. Tanvir Uddin, Executive Member
Khaleda Akther Shova, Executive Member
Sufi Enam Elahi, Executive Member
Quazi Tanvir Asif, Executive Member
Md. Mahiuddin, Executive Member
Events:
- Workshops on Career Planning
- Workshops on Presentation Skills
- Freshman Reception
- Bashanto Utsab
Activities:
- Weekly language sessions
- Financial assistance for child cancer patient Sayem
- Warm clothe distribution among the destitute at Dhaka city during winter
- Movie shows
- Stage drama shows
- Blood donation in collaboration with i-blood
- Sticker publication promoting safe driving
- Facebook Fan Club
- Group mail
ELC Photo Gallery: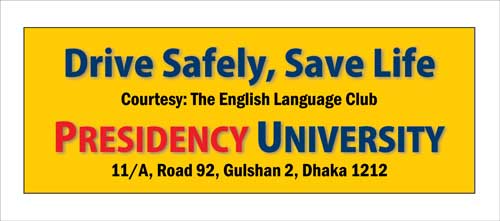 Photo: ELC Safe Driving Sticker for community awareness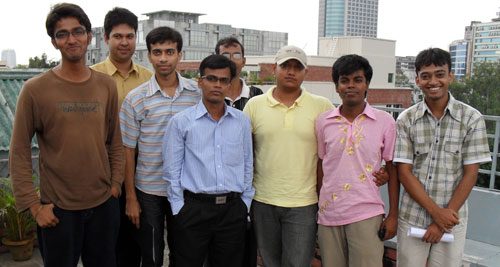 Photo: ELC CLub Members