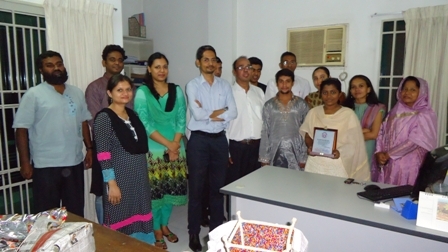 Presidency University bids adieu to a business lecturer
EVENT DESCRIPTION
The M.H. School of Business of Presidency University (PU) bade adieu
to a lecturer in business studies who took leave from the university
on 12 th August at 6pm. Kaniz Marium Akther, lecturer of the school,
was accorded a warm farewell through a ceremony organised at the
university's Gulshan campus.The programme was presided over by Prof.
Dr. Muhammad Mahboob Ali, Head of the school of business.
Besides recollecting her days at the university, Prof. Mahboob
stressed that there is no alternative to quality business education
for creating future leaders of the country's economy.Among others
following faculties were present: Khan Md. Raziuddin Taufique,
Assistant Professor,Y.A.M Rafiqul Haq, Assistant Professor and BBA
Program Coordinator,.Md. Muzakkeerul Huda, Assistant Professor,Tina
Umnia Hussain , Assistant Professor,Md.Sarowar Khaled, Assistant
Professor, Dr. Tarun Tapan Dhar, Assistant Professor and MBA
Program coordinator ,Tamim Hossain, Assistant Professor, Khodeza
Begum, Assistant Professor , S.M. Abdus Shakur, Lecturer,Hasina
Marium, Lecuter,Alamgir Hossain, Lecturer,Annesha Zeheen, Lecturer
were present.
Organized By
Department of Business
Location
Gulshan Campus
Event Information
| | | |
| --- | --- | --- |
| | Category | farewell |
| | Start Date | Aug 12, 2012 |
| | End Date | Aug 12, 2012 |
| | Start Time | 06:01pm |
| | End Time | 07:01pm |