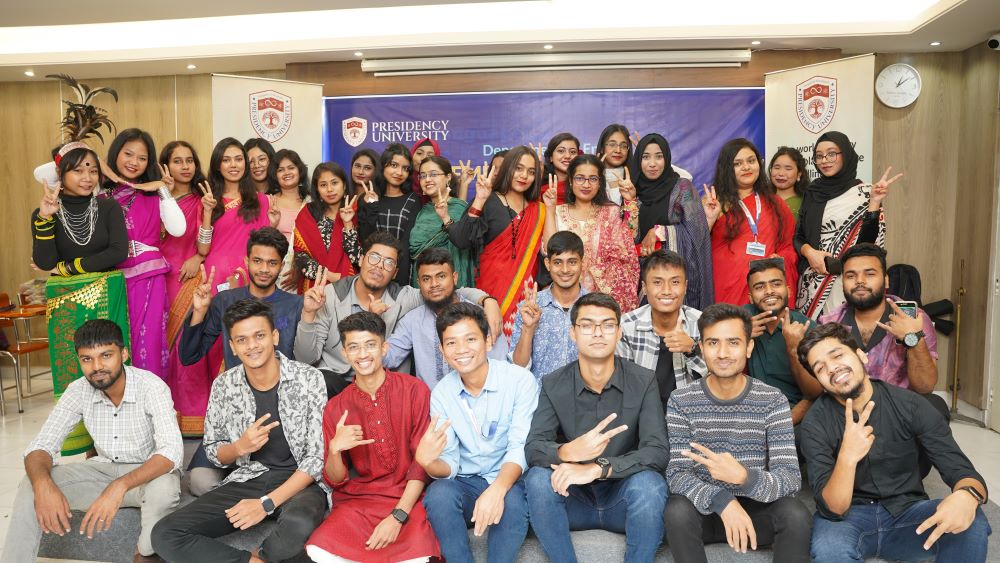 English Language Club
Vision
English language club of Presidency University is going to provide an opportunity for the students to practice using English in a relaxed and friendly setting. Moreover, the Club will encourage and support students to help each other to achieve the objectives of the club.
Mission
English is the medium of instruction in most of the tertiary level academic institutions in Bangladesh. Students from Bangla medium schools and colleges often find it difficult to cope with that condition. There are foundation courses to prepare the students for the academic needs. But only one or two language courses cannot develop the skills they need for their academic success. Language club can give them the opportunity to stay with English as long as they want beside their regular academic routine.
One of the targets of higher educational institutions is to produce graduates who can compete in the job market and become successful professionals. People who speak English well have more job opportunities and better chances to succeed in professional life. So English Language club can assist students to achieve language competency needed for professional success.
An English language club plays and important social role. It opens a platform for the students where they can meet with new people and make new friends. Club also inspires to work in groups. So students will develop mutual understanding and social relationship within the group. They will also develop interpersonal communication skills. This can be incredibly important for students willing to study abroad as they need to know how to deal with people and how to develop understanding within a group.
A language club allows Fun and enjoyment. The club will allow students to practice language through watching movies, playing language games, staging drama and a lot more entertaining activities. This fun and enjoyment will remove monotony in the process of learning and motivate them to learn more.
Goals & Objectives
Members of the English Language Club will be able to
develop all the language skills (e.g. reading, writing, listening, speaking) needed for academic success.

develop confidence and skills needed for professional success.

communicate effectively in real situations both in oral and written form

develop interpersonal and group communication skill

develop mutual understanding and social relationship within group.
Action Plan
There will be regular weekly sessions.
Day & Time: Every Thursday from 10:00 am to 12:00 pm
There will be at least two workshops/seminars/presentations per semester. Experts from other institutions will be invited in those sessions.
Support
One classroom reserved for language club on every Thursday from 10am to 12pm.

Multimedia projector

Sound system

Microphone

Books and CDs

Photocopy

Gift for the facilitators in the workshop
Powered by Froala Editor