Presidency University Debating Society
"Battle of Logic for Battle of Life"


Introduction:
The Presidency University Debating Society was formed in Fall 2005 with an aim of helping students improve their skills in English and Bangla through debate. The club was revived in 2009 by S.M. Abdus Shakur ,Lecturer of School of Business. The Debating Society is also known an PUDS.
Objective:
Presidency University Debating Society has a number of objectives. They are as follows:
Creating facilities for its members to improve their communication skills in English & Bangla.
Nurturing a sense of leadership, team spirit, cooperation and voluntary services among the members which will help them better perform in their career in future
Cultivating a sense of social and ethical responsibilities and
Building a better image of the university through positive activities
How to Join the Club:
Students of Presidency University can join the club any time around the year. They need to collect an application form from the web site or from the club members. The completed application forms with a passport size photograph and taka one hundred as registration fee should be submitted to the club advisor. The advisor will assign them membership numbers.
Advisor:
S.M. Abdus Shakur, Lecturer, School of Business
Key Persons:
To Be Announced (TBA)
Events:
- Valobasa Dibos Bitorko Utshob -2009
- Fresher's Reception-2010
Activities:
- Weekly debate sessions
- Movie shows
- Face book Fan Club
PUDS Photo Gallery: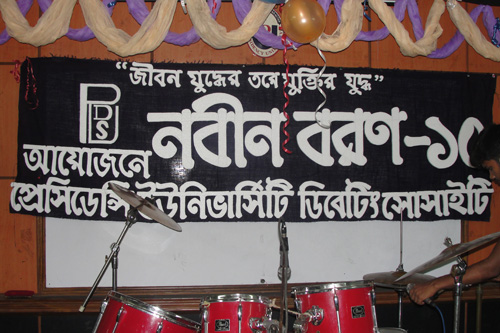 Photo: PUDS Program